Aluminum shower back wall cheap
Aluminum shower back wall available at a favorable price. The
wear and tear can be extrapolated for a shower that is used every day . There are no signs of corrosion and as long as the anodizing remains intact
, there is no need to worry that anything will change.
Tile-free shower walls made of aluminum composite the new trend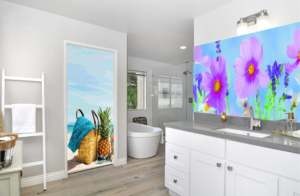 Taking a morning shower is often frightening at the sight of the old shower wall! Tiles with calcified edges, brittle joints and, in the worst case, mold creeps in here or there. Unfortunately, it is now a familiar sight in the bathrooms of German citizens. But that is the end of new living concepts. How do you do that?
We would be happy to show you how you can design your shower cubicle without tiles in a contemporary yet individual way.
In addition to the use of traditional tiles, contemporary wall coverings made of, for example, aluminum composite or acrylic are becoming increasingly popular. The tendency to design the sanitary area completely without tiles was not very well known up to now. Bathrooms with cladding made of aluminum shower  back wall cheap triggered it. Even the term " aluminum composite " is familiar to many craftsmen and do-it-yourselfers today.
It opens up the unique possibility of designing the wall surfaces in damp rooms to be watertight or water-repellent. The following applies, especially in the shower area, but also on the walls in the bathroom: Without tiles up to the ceiling, the various colors and motifs also offer great design freedom.
Carefree with the shower without tiles
An alternative to traditional tiles in the sanitary area is not only valid for new buildings, joint-free shower walls and panels are also becoming increasingly popular when renovating bathrooms and showers .
The advantages of the tile-free shower rear wall cannot be denied:
Joint-free wall and thus avoidance of limescale and mold formation




problem-free handling when cleaning




variable design options for the bathroom
This becomes clear in the renovation of the bathing area: without tiles, the mold-free atmosphere is also a big plus, apart from the time saved during expansion. But who wouldn't want to renovate their shower without tiles with these new design options?
Showers without tiles in small bathrooms
The German bathroom is almost 8 square meters. But especially in newly built apartments, the residents often have to live in even tighter spaces.
In such cases, a custom-made shower back wall is an excellent way of visually enhancing the room: thanks to the shower back wall made of aluminum composite material, manufactured with millimeter precision, it also fits into smaller shower rooms and gives the small bathrooms more space.
A tiled bathroom often appears unnecessarily cramped and bleak. The reason is that the view is disturbed by the large number of joints.
With a shower rear wall made of Alu-Dibond, on the other hand, you get a smooth, seamless and visually non-disruptive surface. Using a shower back wall instead of tiles creates an atmosphere of transparency and spaciousness. When planning the shower back wall, all design options are open.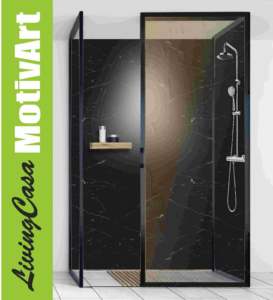 With high-quality printing and materials, we create the opportunity to transfer a wide variety of lifelike and deceptively real-looking material motifs onto the printed shower rear wall .
The shower back wall made of aluminum composite impresses with its high quality material and workmanship, produced exclusively in Germany. Fine oak , noble marble or robust concrete look – numerous varied motifs of your printed shower back wall are stored in our shop. If you prefer to realize your personal ideas on your Alu-Dibond shower back wall, no problem, just contact us.